Celebración Mexicana Concert Program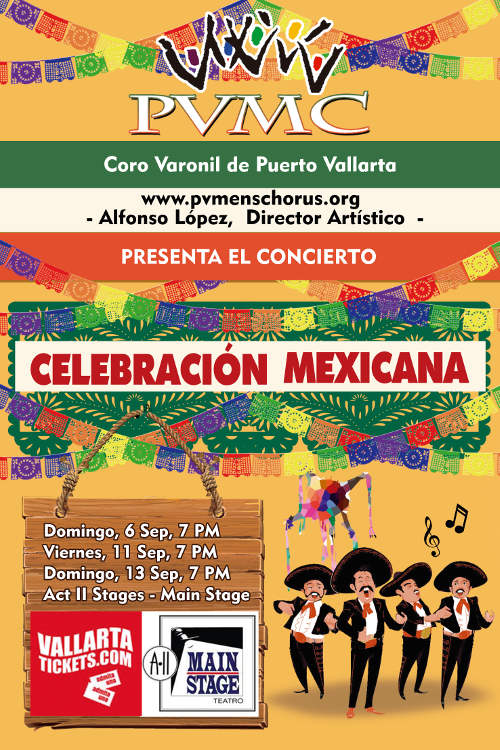 BAHÍA DE BANDERAS ARTES ESCÉNICAS A.C.
BANDERAS BAY PERFORMING ARTS
BOARD OF DIRECTORS
Richard Canter, President
Luis Ramírez, Vice President
Dean McIntyre, Secretary
Ron Lagasse, Treasurer
Alfonso López, Artistic Director, ex-officio
Allyn Dixon, Director, Fundraising and Donor Relations
Don Gipe, Co-Director, Cantante Members
José de Jesus Salcedo de Santiago, Co-Director, Cantante Members
Scotty McIntyre, Director, Marketing and Public Relations
Who's Who
Alfonso López
Artistic Director, Choreography
Puerto Vallarta Men's Chorus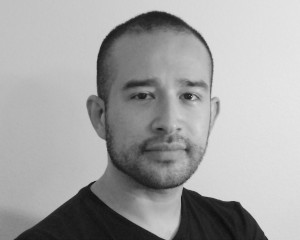 Mr. López, bass-baritone, holds a Master of Music Degree in Vocal Performance from The University of Texas-Pan American where he graduated with Highest Honors. He has directed Elementary, Middle School, and University choirs; directed musicals in Universities and Colleges in Texas and more than 150 concerts at Opera Teatro Bar in Texas; and performed in plays, recitals, operas, and musicals throughout Mexico and The United States.
This year, he was head judge for The Voice of Vallarta, worked as a Stage Technician in several shows for PVMC founder and former Artistic Director Bob Bruneau, and directed and performed in the musical Forever Plaid. In addition to directing The Puerto Vallarta Men's Chorus, Mr. Lopez teaches voice and piano privately, is directing this summer's "The Best of Voice of Vallarta" CD and concert, and is preparing other projects and musicals for the following season of Act II Stages. In addition to music, his hobbies include Mixed Martial Arts, video games, and learning in general. He would like to thank Richard Canter and all of PVMC's Board of Directors for their hard work and continuous support; Danny Mininni, Santiago Tello, Ángel Paredes and Oscar Cisneros for making Act II Stages a second home; José de Santiago for being so involved in this concert's production and pressuring to get things done; all of previous and present PVMC contributors for making this concert possible; and you.
Sally Estes
Principal Accompanist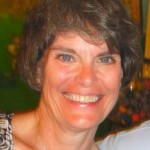 Sally and her husband, Jim, have been frequent visitors to PV for 30 years, moving here permanently in 2012. Sally's life has revolved around music with early piano and clarinet lessons, and accompanying numerous H.S. and college soloists and ensembles. She earned her BA with an emphasis in piano performance. In addition to accompanying the Puerto Vallarta Men's Chorus, Sally plays keyboards with the Worship in Paradise praise band, is a clarinetist with the Vallarta Chamber Orchestra and teaches private piano lessons. Her hobbies include white-water rafting and reading.
Act II Entertainment Stages
Danny Mininni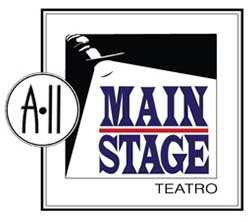 Act II Entertainment is committed to providing year-round programming that engages our multi-cultural community, including Main Stage musicals and plays, concert series, late night shows, Red Room Cabaret shows, and the Encore Piano Bar.
Act II Entertainment engages, inspires, entertains, and challenges audiences with theatrical productions that range from the classics to new works; we train and support the next generation of theater artists; we provide arts education programs that promote life-long learning to a diverse community; and we celebrate the essential power of the theatre to illuminate our common humanity.
Concert Program
El Rey
Cielito Lindo
De Colores
México en la Piel (soloist Aarón Hernández)
Sabor a Mí / Be True to Me
Contigo Aprendí
Bésame Mucho (small ensemble)
(Intermission)
Piel Morena
La Niña Fresa (featuring José de Jesus Salcedo de Santiago as La Niña Fresa and soloist Gerry Barreto)
Secreto de Amor (soloist Roberto Gómez Duran and the small ensemble)
Todos Me Miran
(Encore) Popurrí en Español
Translations
El Rey (The King)
I do know that I am out of your life
But on the day that I die
I know you will cry and cry
You´ll say that you did not love me
But you are going to be very sad
And you´re going to stay that way
With or without money
I always do what I want
And my word is the law
I have neither a throne nor a queen
Nor anyone who understands me
But I continue to be the king
A stone on the road
Showed me that my destiny
Was to roll and roll
Then a muleteer told me
That you don't have to arrive first
But you do have to know how to arrive
México en la Piel (Mexico on your Skin)
Like the view in Sonora
Dressed with the sea in Cozumel
With the sun's warmth on your whole body
That´s the feeling you get from Mexico
Like the good tequila from this land
Or like a friend from Yucatan
And embroidered in Aguascalientes
Or woven like wool in Teotitlan
Chorus: That´s how Mexico feels
Like lips on your skin
That's how Mexico captivates you
That´s how Mexico tastes to you
That's the feeling you get from Mexico
Like seeing the mountains of Chihuahua
Or the arts and crafts of San Miguel
Getting into a saddle
That's the feeling you get from Mexico
Like listening to mariachis
And make you cry to that song
In the south they play marimbas
And in the north accordians
Like a good Sarape from Saltillo
Like a welcome in Veracruz
With the emotion of a kiss face to face
That's the feeling you get from Mexico.
Like contemplating the Caribbean Sea
Or discovering a beautiful sunrise
Feeling a fresh breeze in Morelia
The moon caressing a woman
Contigo Aprendí (With You I Learned)
With you I learned that there are new and better emotions
With you I found a new world of dreams
I discovered that a week has more than seven days
To make my joys even more joyous
And to be happy. I learned that with you.
With you I learned to see the light on the other side of the moon
I learned that I don't try to change you one bit
I discovered that a kiss can be the sweetest and most profound
That I could even leave this world tomorrow
With all the good things I have experienced with you
And I also learned that I was born the day I met you
Piel Morena (Brown Skin)
It's the magic of your body or the perfume of your breath
It's the fire of your bonfire that keeps me as a prisoner
It's the sweet poison of your enchantment or the flame that keeps burning me
The honey of your tenderness is the reason for my insanity
I'm nothing without the light of your gaze
Without the echoes of your laughter that sneak through my window.
You are the owner of the warmth of my pillow
Of my nostalgic nights
Of my dreams and hopes
You are the brown skin
Song of passion and sand
You are the brown skin
A night under the starlight
You are the brown skin,…
Beach, sun and palm trees
You are the brown skin
The dream of my springtime
Your kisses are the sweet fruit that inebriates me
That carries away my sadness makes me end up feeling calm
Prisioner of your love at dawn
Of your kisses and caresses that rest deep in my soul
Brown skin, you are cumbia, sun and sand
Brown skin, my delirium, my condemnation
It's the magic of your body or the perfume of your breath
It's the fire of your bonfire that keeps me prisoner
Ay caramba!
You are brown skin
Because I'm happy only by your side
You are brown skin
I have so many things for you
You are brown skin
Consuming me in your bonfire slowly
You are brown skin
You keep me prisoner
La Niña Fresa (The Princess)
This song goes out to all the girls
Who are like a girl I know
I have a girlfriend who is very sweet
And naughty but she has a flaw
She's a princess
When we go out dancing
We go with several couples
The waiter arrives and everyone chants:
Chorus: Should they serve her tepache?
No No
Would she like some beer?
No No
Should they get her some soda pop?
No No
Or an ice-cream surprise?
No No
What does the baby girl want?
What will the princess order?
What is the queen craving?
What does the princess want?
Ugh. A banana split, OK?
What did I tell you?
She is very loving
she caresses and kisses me
but she can't help being a princess
Where is the waiter?
Get him to the table
Since there were no bananas
Let's see what the princess wants
(Chorus)
Ok, an ice-cream at least, no?
Ugh! How I hate these places
(Chorus)
A tepache?
Tepache for me? What's wrong with you?! Nuh-uh!
And let it be noted that I don't even want to make a scene, ok?
Secreto de Amor (Secret Love)
I will change your name
To keep it secret
Because I love you, and you love me
And to someone we owe respect
I will change your name
Based on what you have brought
Now your name is Gloria (Glory)
And you certainly deserve it
And we have to kiss
Cuddling under the moon
Secret love I must confess
I love you like no one else
And I can change your name
But not the story
Whatever your name
For me, you are the Glory
You are a secret love
In front of everyone do not stare at me
Do not sigh; do not call out to me
Even though you love me
In front of everybody
I am your friend
I am telling you, what a punishment
Todos Me Miran (Everyone Keeps Looking at Me)
You made me feel that I was worthless
And my tears fell down at your feet
I would look into the mirror without finding myself
I was only what you wanted to see
So I let my hair down, and dressed up as a queen
I put on heels and make up, and I was beautiful
I walked to the door, and I heard you yell at me
But your chains can no longer stop me
And I looked up at the night sky, but it was no longer dark
It was full of sequins!
And everyone keeps looking at me
And I know that I am beautiful because everyone is admiring me
And everyone keeps looking at me
Because I do what few people dare to do
And everyone keeps looking at me,
some with envy, but in the end after all,
everyone will love me
(Encore) Popurrí en Español (Potpourri in Spanish)
When I woke up and I saw another man lying next to me
I asked myself, "This jerk? Who is he?"
And later I rationalized that it must have been the alcohol
I must have mixed so much yesterday that I went fag.
And what will they say about me? (They will say that you are gay)
I will have to assume it. (Don't hurry stud)
They will accept me as such. (As if)
Stereosexual
———
Girls today with cold shoulders
Girls today, we can do it
——
Shadow here, shadow there, put on makeup
A crystal mirror, and look at yourself
———
There was a party that night and he showed up in a tuxedo
And I bit my lips, how cool
Shy
A while later, we danced, touching darkness
I think you have bewitched me
We go to the port to swim
Shy
The moon over the sea surprised us
Just one kiss and it was deadly
And turned into a statue of salt
Look for me shyly
Come have a drink in the sea
Dare shyly
How long can we stay
Look at me shyly
I know you are beginning to like me
Shyly stay
I'm not going to run away
Shy you
——
Emotion after emotion, I swear to you that for today
The streets are the best school
Motorcycles, boys, fun, the best of the best
All whenever you want within reach
Cars, fashion and rock and roll
Our civilization, lights, rhythm and fun
——
Stick, nice stick
———
Banana hard, tight, perverse, mischievous, small, tasty
Tony, pretty face, spool face and Martha, pretty face, spool face
My spool, Yolanda, spool face
And I have a bouncing ball that lifts me up and down. The ball bounces up.
Concert Credits
PRODUCTION STAFF
STAGE TECHNICIAN————————–Santiago Tello
LIGHTING DESIGN—————————-Santiago Tello & Alfonso López
STAGE MANAGER—————————–Teri Hogan
SET DESIGN————————————Alfonso López
MASTER CARPENTER AND RIGGING—–Ángel Paredes
PROGRAM ART AND PRINTING
GRAPHIC DESIGN—————————–CloudIlluzions – Alán Córdova
PRINTING—————————————Coloristas y Asociados, S.A. de C.V.
Singers
Puerto Vallarta Men's Chorus
TENOR 1
Nick Bauer
Joseph Cisneros *
Roberto Gómez Duran *
Aarón Hernández *
Luis Ramírez
Raúl Torres
William Vázquez
TENOR 2
Max Albertos
Gerry Barreto
Gustavo Contreras
Tony Favello
Aarón Hernández
Chrystian Hernández
Jorge Martínez
José de Jesus Salcedo de Santiago *
Jimm Luna
Juan Pablo Hernández
BARITONE
Ricky Aranda
Laurier Bisson *
Carlos González
Ron Lagasse *
Alejandro Martin
Rubén Ruiz
Josué Santiago
BASS
Richard Canter *
Isaac Carachure
Don Gipe *
Joey Martínez
Dean McIntyre *
* Shooting Stars small ensemble
THANKS TO OUR "DE COLORES" AUCTION SPONSORS