Crystal Ball – Baile de Cristal
Event Date: March 13, 2017 at 7:00 pm Event Location: Casa Karma, Carretera a Barra de Navidad 1247, Conchas Chinas, 48390 Puerto Vallarta, Jalisco, México
CRYSTAL BALL
An Evening Under the Stars
5th Annual Fundraiser for the Puerto Vallarta Gay Men's Chorus
Monday, March 13, 2017 – 7:00 pm
Casa Karma Boutique Resort
***SPECIAL GUESTS JUST ANNOUNCED***
TWENTY CHARTED BILLBOARD HITS and
FIVE MILLION ALBUMS SOLD!
Country Superstar TY HERNDON!!!
RENEE ARMAND AND PAUL ALEMAN from Laurel Canyon!!!

Sumptuous Spread and Copious Cocktails
Entertainment by PVGMC and a Special Guest Star
On-Line Auction
Dancing Under the Stars
Free Valet Parking
$1500 pesos/person
The Puerto Vallarta Gay Men's Chorus (PVGMC) is proud to present its 5th annual fundraising gala on Monday, March 13, 2017, at 7:00 pm at the beautiful Casa Karma Boutique Resort! This is the PVGMC's major fundraising effort, which will help fund their many musical projects throughout the rest of the year.
The name "Crystal Ball" actually revolves around an online auction that will begin on February 27. Numerous high-end designer crystal items (many of which are signed by the artist) have been donated by Georgia and Gholi Darehshori of Casa Karma. The online auction will run until March 12, and purchased items may be picked up at the gala. Auction items are now on display at Casa Karma, and they may be previewed at any time. Some very special items are also being held and will be auctioned off the night of the gala! More details about the auction are available at https://www.myminiauction.com/karmacharityauctions/#item-34990 .
Imagining the glamour and splendor of a grand ball, guests are invited to cavort and dance under the stars in this opulent seaside setting. Campy, comfortable beach club attire is encouraged, but smoking jackets are an option, as well. Anyone may attend, and all are welcome. Celebrations Vallarta has graciously agreed to provide an over-the-top, lavish buffet, and guest's chalices will be filled with copious amounts of cocktails throughout the evening. PVGMC asks that you help them "fill their coffers" by bringing along your silk purses so that you can participate in their amazing auction! They are reaching out to those people who celebrate gay-sensitive issues, as well as those who are making a positive cultural contribution to the entire community. The whole purpose of this event is, as the song says, "to have a real good time!" In fact, The Queen has decreed a GAY time for all!
The PVGMC is a diverse, community-based performing arts organization that develops and shares the vocal skills of gay men from Mexico, the United States, Canada and around the world. Directed by Act II Theater's dynamic musical director, Alfonso Lopez, their music blends traditional choral music with musical theater, jazz and pop. Their goal is to entertain, enlighten and unify their audiences, while building bridges of greater understanding, acceptance and love between communities, cultures, families, and friends. The PVGMC will also be performing at this gala event.
Tickets available at Timothy Real Estate Group – Calle Ignacio L. Vallarta 130, Local 7, Col. Emiliano Zapata.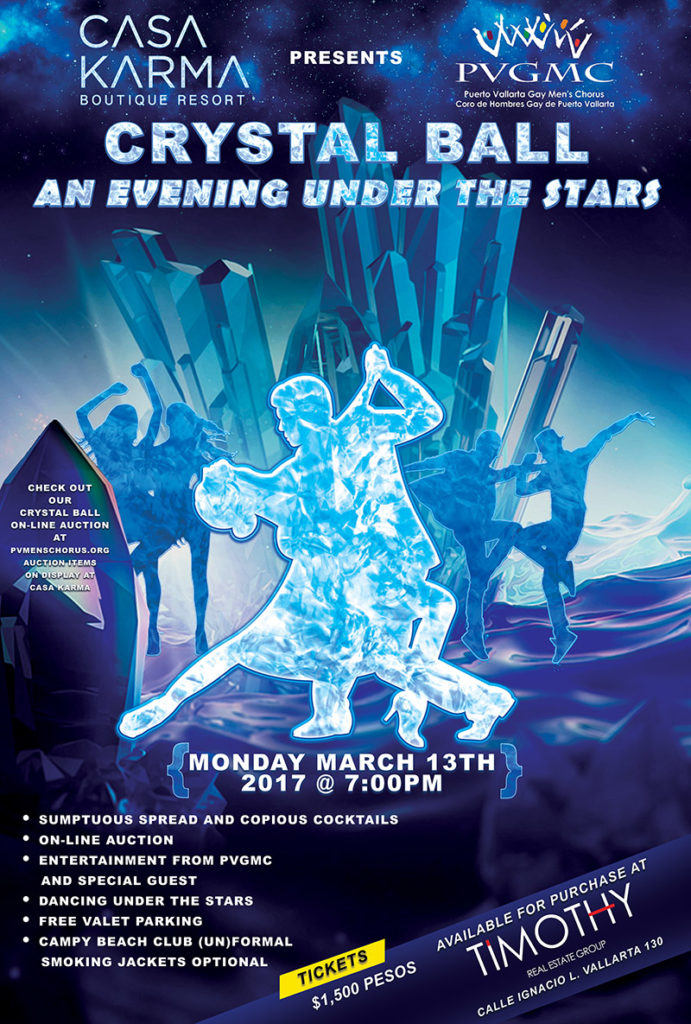 BAILE DE CRISTAL
Una Noche Bajo las Estrellas
5o Evento Anual de Recaudación de Fondos por el Coro de Hombres Gay de Puerto Vallarta
Lunes, 13 de Marzo, 2017 – 7:00 pm
Casa Karma Boutique Resort
***ANUNCIO DE CANTANTES ESPECIALES***
VEINTE ÉXITOS EN BILLBOARD y
VENTAS DE CINCO MILLÓNES DE ALBUMES
¡¡¡Country Superstar TY HERNDON y
RENEE ARMAND Y PAUL ALEMAN de Laurel Canyon!!!
Comida Suntuosa y Cócteles Suntuosos
Entretenamiento por PVGMC y una Estrella Invitada Especial
Subasta en Línea
Bailar Bajo las Estrellas
Estacionamiento Gratis por Valet
$1500 pesos/persona
¡El Coro de Hombres Gay de Puerto Vallarta (PVGMC) tiene orgullo en presentar su 5o evento anual de recaudación de fondos el lunes,13 de marzo, a las 7 pm en el bello Casa Karma Boutique Resort! Éste es el esfuerzo mayor de recaudación de fondos por el PVGMC, que apoyará los proyectos musicales durante el resto del año.
El nombre "Baile de Cristal" realmente se trata de una subasta en línea que empieza el 27 de febrero. Numerosos artículos de cristal de diseño de gama alta (muchos de que tiene la firma del artista) se han donado por Georgia y Gholi Darehshori de Casa Karma. La subasta en línea dura hasta las 12 de marzo, y los artículos comprados se le recogen durante el evento gala. Los artículos de la subasta están listos para vista en Casa Karma, y podría verlos durante las horas normales de funcionamiento. ¡Algunos artículos muy especiales se guardan para una subasta la noche del evento gala! Más detalles de la subasta están disponibles en https://www.myminiauction.com/karmacharityauctions/#item-34990 .
Con el glamour y el esplendor en la imaginación, los invitados se invitan a cabriolar y bailar bajo las estrellas en este costero ambiente opulento. Se fomenta atuendo loco y cómodo de un club de la playa, pero otra opción es un smoking también. Invitamos y damos la bienvenida a todo el mundo. Celebrations Vallarta se ha acordado a proveer un bufet lujoso de primera clase. Los cálices se llenarán con cantidades generosas de cócteles durante la noche. ¡El PVGMC pide que los ayude a "llenar las arcas" por traer las bolsas de seda para que participe en la subasta asombrosa! Llegan a ellos que celebran temas sensibles a los gays, así como aquellos que hacen una contribución cultural positiva a toda la comunidad. El propósito del evento es, como dice la canción, "to have a real good time!" (divertirse mucho). De hecho, ¡La Reina ha decretado un tiempo GAY para todos!
El PVGMC es una organización de artes escénicas diversa y basada en la comunidad que desarolla y comparte las habilidades vocales de hombres gay de México, Estados Unidos, Canadá y alrededor del mundo. Dirigido por el director musical del teatro Act II, Alfonso López, su música mezcla música coral tradicional con música teatral, jazz y pop. Su meta es entretener, informar y unificar su audiencia, y a construir puentes de entendimiento, aceptación y afecto entre comunidades, culturas, familias, y amigos. ¡También, miembros del PVGMC van a cantar en este evento gala!
Los boletos están disponibles en Timothy Real Estate Group – Calle Ignacio L. Vallarta 130, Local 7, Col. Emiliano Zapata.