The Chorus Presents the "Todos Juntos – Together" Gay Pride Concerts
Event Date: May 25, 2017 at 8:00 pm Event Location: Main Stage, Act II Entertainment Stages, Insurgentes 300, Zona Romántica, Puerto Vallarta, Jalisco 48380, México
Join the Puerto Vallarta Gay Men's Chorus (PVGMC) at 8 PM on Thursday, May 25, and Saturday, May 27, at Act II Entertainment Stages Main Stage for their 4th Gay Pride Concert at Act II.
This year's theme was born from a year where all communities have had to come together and rise up. The PVGMC is built on the idea that men from both sides of the wall have come together to sing and love and to form friendships. "TODOS JUNTOS – TOGETHER" embodies that idea and brings together not only the music of the chorus, but many guest performers, such as Elvis Martínez (Red Room headliner), Kharla Barragan (owner of Alas, Escuela de Canto), and Act II's Voice of Vallarta WINNERS, Ana Adame, Eli Estrada, and Emperatriz Valles. Artistic Director, Alfonso López, promises Vallarta a GAY PRIDE concert like none other!
Buy your tickets now online at ACT2PV.com or at the box office of Act II Stages, Insurgentes 300 in the Romantic Zone (up the staircase on Basilio Badillo), telephone 322-222-1512.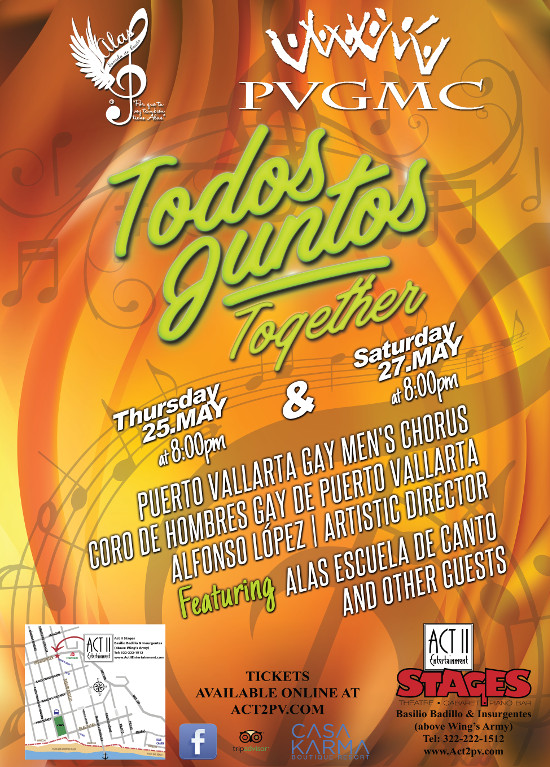 Reunirse con el Coro de Hombres Gay de Puerto Vallarta (PVGMC) a las 8 PM el jueves, May 25, y el sábado, May 27, en el Main Stage de Act II Entertainment Stages para su 4to Concierto de Orgullo Gay en Act II.
El tema de este año nació de un año donde todas las comunidades se han tenido que unirse y levantarse. El PVGMC se fundió en la idea de hombres de ambos lados de la frontera se han unido para cantar y amar y formar amistades. "TODOS JUNTOS – TOGETHER" trata de esa idea y une juntos no sólo la música del coro, pero muchos cantantes invitados, como Elvis Martínez (estrella del Red Room), Kharla Barragan (dueña de Alas, Escuela de Canto), y los GANADORES de la Voz de Vallarta de Act II, Ana Adame, Eli Estrada, y Emperatríz Valles. ¡Director Artístico, Alfonso López, promete a Vallarta un concierto de ORGULLO GAY sin igual!
Compre los boletos hoy en línea en ACT2PV.com o en la taquilla de Act II Stages, Insurgentes 300 en la Zona Romántica (arriba la escalera en Basilio Badillo), teléfono 322-222-1512.