Mardi Gras/Carnaval PV 2018
The chorus is proudly participating in parade for Mardi Gras PV 2018.
El coro participará con orgullo en el desfile Carnaval PV 2018.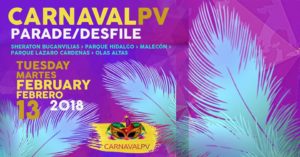 Carnaval PV CELEBRATES PV'S 100TH BIRTHDAY
On February 13th, the annual parade celebrating Mardi Gras will begin at 8pm in the hotel zone and proceed through the world-famous malecon to Los Muertos Pier.

Incredible floats, colorful costumes, towering stilt walkers, street performers and dancers are all part of the festivities in Puerto Vallarta, and of course get your hands ready to catch some beads.

Register ONLINE!
Businesses, organizations, schools and individuals who wish to take part in this year's family-friendly parade can register online at 👉 https://goo.gl/GJnK5e

Check out last year's video on the website and, while you're there, follow us on Facebook for the latest news.
Last year's event brought over 30,000 cheering residents and tourists from all walks of life together on the city street curbs to be wowed by floats and parade participants celebrating the diversity of our city. This year's city-sponsored event is sure to bring even more people and wowing to Puerto Vallarta.

Mardi Gras, or Fat Tuesday in English, is best known in New Orleans but celebrated in many cities around the world. Fat Tuesday refers to the day when many people eat fattening foods and stock up before the ritual fasting of the Lenten season.

The Mardi Gras parade is the most exciting part of the ritual bringing together gay, straight, light, dark, male, female, old, and young, all for a collective purpose, to get as many beaded necklaces as possible.

Don't miss the fun‼️
_________________________________________________________________

EL CARNAVAL PV CELEBRA EL 100° ANIVERSARIO DE PUERTO VALLARTA

Alista tus máscaras, invita a tus amigos y prepárense para el Carnaval PV.

Se llevará a cabo el día Martes 13 de febrero, con el desfile anual que celebra el Mardi Gras, comenzará a las 8 p.m. en la zona hotelera y continuará por el mundialmente famoso Malecón hasta el muelle de Los Muertos.
Carros alegóricos increíbles, trajes coloridos, imponentes caminantes de zancos, artistas callejeros y bailarines son parte de las festividades en Puerto Vallarta, y por supuesto, prepárate para atrapar algunos collares.

Participa en el Carnaval PV:
Las empresas, organizaciones, escuelas y personas que deseen participar en el desfile familiar de este año pueden inscribirse en línea en www.carnavalPV.com Vea el video del año pasado en el sitio web y, mientras esté allí, síganos en Facebook para recibir las últimas noticias.

El evento del año pasado atrajo a más de 30,000 residentes y turistas a las calles de la ciudad para ser cautivados por carrozas y participantes del desfile que celebran la diversidad de nuestra ciudad. El evento patrocinado por la ciudad de este año seguramente traerá aún más personas y asombro a Puerto Vallarta.

¿Que es Mardi Gras?

Mardi Gras, o Fat Tuesday en inglés, es más conocido en Nueva Orleans, pero se celebra en muchas ciudades del mundo. El martes gordo se refiere al día en que muchas personas comen alimentos que engordan y se abastecen antes del ayuno ritual de la temporada de Cuaresma.

El desfile de Mardi Gras es la parte más emocionante del ritual que reúne a homosexuales, heterosexuales, altos, oscuros, masculinos, femeninos, viejos y jóvenes, todos con un propósito colectivo, para obtener tantos collares de cuentas como sea posible.

¡No te pierdas la diversión!